DANSE DNA DANCE INC. OPENED IT'S DOORS IN 2011 IN DIEPPE NEW BRUNSWICK UNDER THE OWNERSHIP OF KARINE BERRY. DNA OFFERS A MULTITUDE OF DANCE CLASSES IN VARIOUS DANCE STYLES SUCH AS PARENT & TOT, KINDER DANCE, HIP HOP, JAZZ, CONTEMPORARY, AND ACRO. SINCE IT'S OPENING, DNA HAS BEEN RECOGNIZED ON AT THE REGIONAL, NATIONAL AND INTERNATIONAL LEVEL!
KARINE STARTED DANCING AT THE AGE OF 5 AT THE DANSE ACADIE STUDIO IN BERESFORD, NB. UPON HER RELOCATION TO MONCTON,NB IN 2003, KARINE CONTINUED HER DANCE TRAINNING AT DANCEAST, L'ACADÉMIE DE DANSE DIEPPE, DANSE KARMA DANCE, FOLLOWED BY THE VIRTUOSE TROUPE AT THE UNIVERSITY OF MONCTON. KARINE IS TRAINED IN JAZZ, LYRICAL, CONTEMPORARY, HIP HOP, TAP, BALLET, MUSICAL THEATRE, AND ACRO.
KARINE CONTINUED HER TRAINING THROUGH MASTER CLASSES, WORKSHOPS, CONVENTIONS AND INTENSIVES IN CANADA, THE UNITED STATES, AND FRANCE AQUIRING KNOWLEDGE FROM SOME OF THE GREATEST PROFESSIONALS IN THE INDUSTRY.
KARINE STARTING HER DANCE TEACHING CAREER AT THE AGE OF 17. SHE BEGAN TEACHING AT L'ACADÉMIE DE DANSE DE DIEPPE, FOLLOWED BY DANSE KARMA DANCE WHICH THEN LED ON TO THE OPENING OF HER OWN STUDIO, DANSE DNA DANCE, IN 2011. THROUGH HER CAREER SHE HAS HAD THE OPPORTUNITY TO TEACH MULTIPLE MASTER CLASSES AND WORKSHOPS IN COMMUNITY EVENTS AND OTHER DANCE STUDIOS. KNOWN FOR HER CREATIVITY, INNOVATION, AND OUT OF THE BOX THINKING, KARINE IS THE RECIPIENT OF MULTIPLE CHOREOGRPAHY AWARDS AND LEAD HER COMPETITIVE DANCERS TO MULTIPLE NATIONAL TITLES.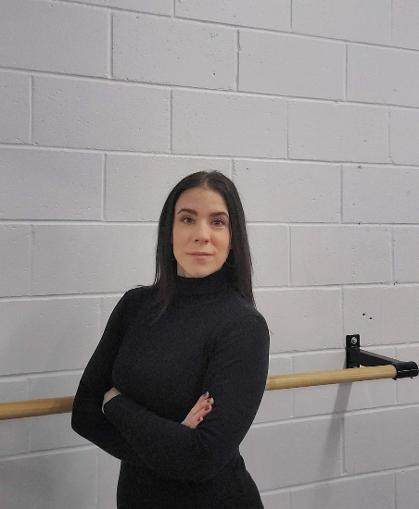 MISSION
SHARE THE ART OF DANCE IN A FUN AND STRUCTURED ENVIRONMENT.
VALUES
WE BELIEVE THAT EVERY STUDENT HAS THE POTENTIAL TO ACHIEVE THEIR GOALS AND EVEN MORE.
WE BELIEVE IN SHARING GOOD VALUES WITH THE STUDENTS THROUGH DANCE.
GOAL
SHARE OUR KNOWLEDGE AND OFFER THE OPPORTUNITY TO EVERYONE TO TAKE PART IN DANCE CLASSES.